Bloggers at What Tami Said and Shakesville on July 7 will host My Planned Parenthood, a blog carnival in which they will share the stories of women and men helped by the organization, which is under attack in Indiana.
According to the Indianapolis Star, Planned Parenthood will "stop seeing Medicare patients lay off two sexually transmitted disease prevention specialists, and close each of its health centers for one day this week, after the donations it had been using to replace state Medicaid funding run out" on June 20.
A tough state anti-abortion law cutting off Medicaid funding to Planned Parenthood of Indiana went into effect May 10, and since then the health provider has relied on donations to keep its doors open and continue serving its 9,300 Medicaid patients. Planned Parenthood of Indiana typically receives about $1.3 million a year in Medicaid funds, which is about 10 percent of its total budget. The law would also strip the health provider of roughly $150,000 in sexually transmitted disease prevention funding.
More from the article:
A total of 85,000 Hoosiers receive services at Planned Parenthood of Indiana's 28 health centers. If the law is allowed to stand, Planned Parenthood will have to close eight centers that serve low-income patients at two Indianapolis locations, as well as in Bedford, Hammond, Michigan City, New Albany, Terre Haute and Muncie.
Just like Tami said at her blog, "we are at war." Conservatives who are hell bent of using back-door mechanisms to make abortions legal are waging war on women's rights and our right to high-quality reproductive health services. It's time for women and men who value Planned Parenthood to stand up and demand conservatives put a stop to their relentless attacks on women.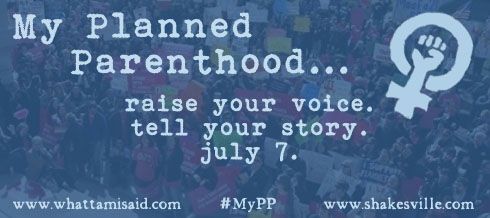 All posts will be published by 9 a.m. July 7 EST. Here's how to participate (straight from whattamisaid.com):
Spread the word about this blog carnival through your blog, word of mouth and social media. On Twitter, use hashtag #MyPP. Post the My Planned Parenthood graphic on your blog and link it to this announcement. (See code below.)
Email whattamisaid@gmail.com or melissa.mcewan@hotmail.com with your intention to participate. Include the name of your blog and it's URL.
Write your post. We may ask you to include a .jpg carnival graphic with information on how to support Planned Parenthood in your post.
Schedule your post to publish by 9 a.m. Eastern, Thursday, July 7. If you can, send a direct link to your post to one of the email addresses above before July 7. What Tami Said and Shakesville will publish the names and links to all participating blogs in a stub post on July 7.
Continue to spread the word and direct people to blog carnival posts.